If you are looking for a bike for your regular rides, for going to work, or simply enjoying the view, that fits on any pavement and has a good-looking design, maybe this bike will interest you. Find out everything that you need to know about this bicycle and what alternatives exist in the content below!
Where are Infinity boss bikes made?
Infinity boss bikes are designed and manufactured in Vancouver, British Columbia by Infinity Cycle Works. As Vancouver is one of the world's most bike-friendly cities, their mission is to create bikes that allow safe, reliable, and enjoyable rides.
What is an Infinity boss three hybrid bike?
An infinite boss hybrid bike is very popular for its versatility. Because it is a bike that is a mix between a mountain bike and a road bike, it can be used in both urban and mountain contexts, although it is most often used in the urban environment. Thus, the hybrid design allows you to have comfortable rides on a flat surface, like paved trails, or bumpy surfaces, such as gravel or dirt.
There are two designs available for men and women, where the latter comes with the option to buy with or without disc brakes, but in reality, both are suitable for both sexes.
Infinity Boss three 7 Speed 700c Ladies Comfort Bike
Infinity Boss three Disc 7 Speed 700c Men's Hybrid Bike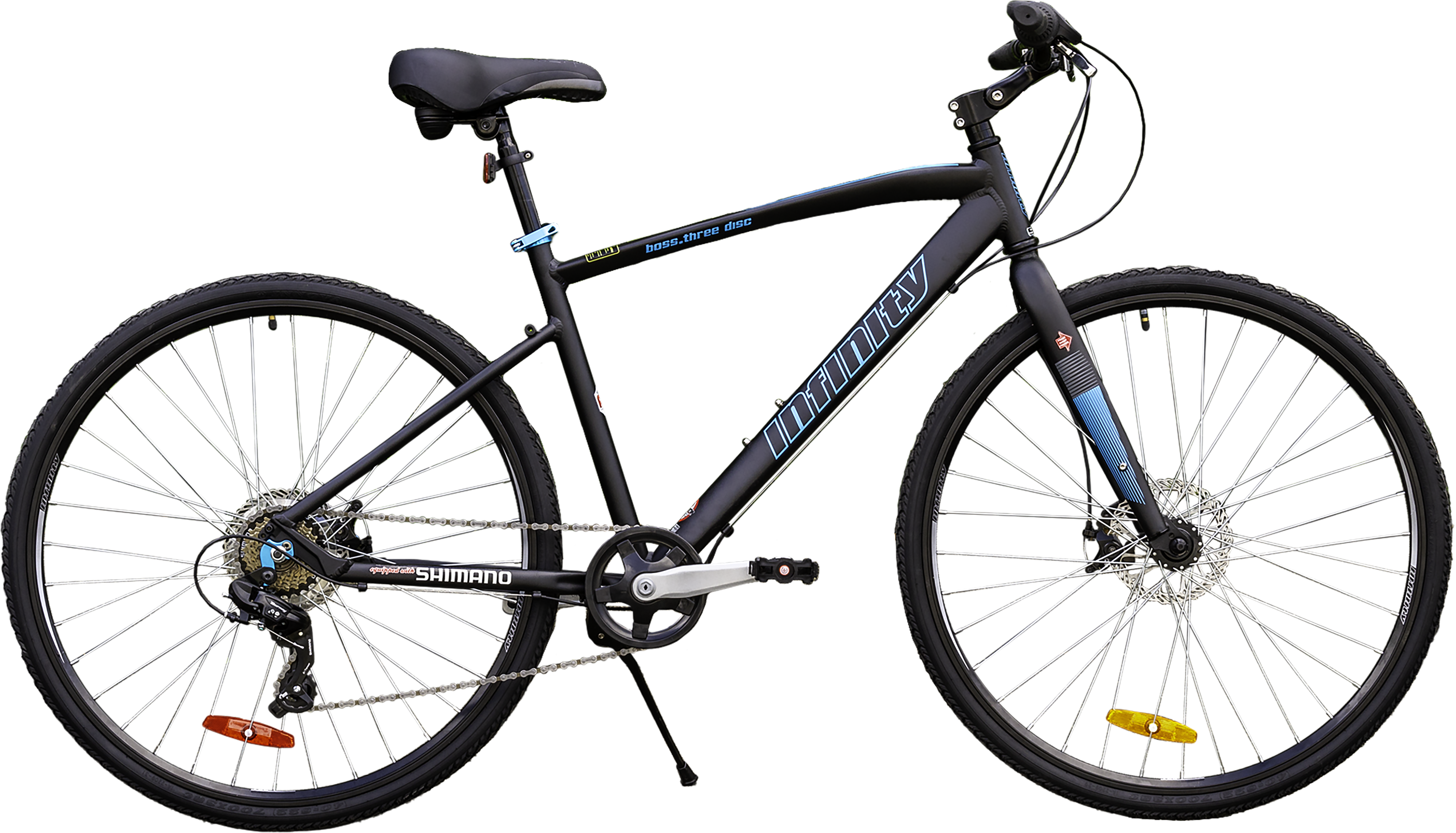 Frame Size
700C x 18″ Diamond Frame
Frame Material
Alloy
Front Fork
Mode 700c Rigid Blade
Drive Train
Shimano 7-Speed
Shifters
Shimano Revo Twist Shifter 7-Speed
Front Derailleur
N/A
Rear Derailleur
RD-TX-300 6/7-Speed W/O Bracket
Free Wheel
Shimano TZ21 14-28T
Chain Rings
GTS21 170mm 36T 1/2 x 3/32″ Arms Silver No Logo
Brakes
Yake Mechanical Dual Disc Brakes Front and Rear
Brake Levers
Yake Mechanical Dual Disc Brakes Front and Rear
Brake Levers
DISC BRAKE Brake Levers
Components
Hybrid Sports-Fit Men's
Saddle
VD842E-01 with silver sides Vader logo
Seat Post
SP-005 27.2 x 350mm NO Infinity logo
Pedals
MX-606, 9/16″, Steel Axle Reflector With Ball Berrings
Handle Bars
YL-811 Steel Type 620mm 30 Deg.
Rims
ZLA-021 700Cx1.5 13Gx36H A/V Double wall 1.7mm THICK with size decal, Black
Tires
Innova I2209 700 x 38c City Tire A/V Innova Tubes, Innova black factory logo
Front Hub
SF-A210F 13Gx36H 3/8″(S45C)X135x 155mm QR, Fits Disc
Rear Hub
Spokes
SF-A210R 13Gx36H 3/8″(S45C)X135x 170mm , Fits Disc Nutted Fange
13 Gauge Steel
Key features
The flat handlebar design is very similar to a mountain bike, which allows excellent control and maneuverability
The main objective of the frame's design is comfort, because it allows an upright position of the torso, allowing the neck and arms to remain relaxed
The fact that it is a 7-speed bike makes pedaling easier, where gear 1 is the low gear and is suitable for climbs, rugged terrain, or for pedaling at low speeds, and the 7 gear, the high gear, is suitable for faster downhills or faster plane surface pedaling. In addition, since it has basic components it is to use, replace and maintain.
The fact that its frame is made of aluminum and has equally good quality components brings some advantages, such as being a relatively lightweight bike (32Lbs/14.52kg) that is easy to transport. Still, it is also a durable bike that can last for a few years. 
Price guide
The bike comes with a price tag of less than 400$, which if you think of all advantages is a reasonable price. You can find it to buy in here
Warranty: It has a 1-year warranty for the entire bike (paint/finish, components attached to the bicycle/frameset such as front forks, wheels, drive train, brakes, seat post, handlebar, and stem, or any suspension-related parts or components) and a 2-year warranty for some parts (chainstays and seatstays). However, some attention is required as this warranty is void if the bicycle or frame was not purchased new. It is even a decent warranty since the components and the whole bicycle is made of resistant materials and some quality.
Assembly: The assembly process is easy but can take about 1 to 3 hours. Here is the site with videos of the assembly and adjustments to the bicycle that you need: Or you can simply go to a nearby bike shop.
Although it only has two color options and sometimes this can be a disadvantage, the main advantage of this bicycle is that it is a practical and versatile bike, which allows you to adjust to different surfaces, gravel surfaces, farm trails, and mountain trails for fun rides and at the same time be a street bike for stable rides and smooth rides. This could be the perfect bike and a perfect choice for these purposes!
Other alternatives to the infinity boss three bike
There are also a wide variety of other great alternatives to this bike, with other special features and similar purposes, which may suit you better.
Schwinn Network 1.0 Adult Hybrid Bike
The bike has a design very similar to the infinity boss three bike. It has an aluminum frame, however, it is heavier than the infinity bike weighing about 43lbs/19.47kgs, has a 700c wheel size, a swept-back handlebar for a standard seating position, and has alloy linear pull breaks. Although it has two main upgrades that are very useful: 21-speed shifters (better than 7-speed shifters), which allow you to better adapt to the speed that you want and have a more efficient ride and it has suspension forks, which makes more balanced rides on challenging surfaces and adventurous rides. It also comes with a limited lifetime warranty.
Heybike Race Plus 26″ Electric Bike
This bike comes with amazing features and is a very affordable bicycle. It has a modern design, is made of carbon steel, and is suitable for urban, commuting, travel, and neighborhood rides. This bike has a 450Wh removable battery and a 350W motor, which gives a range of up to 28 miles under pure electric mode and 40 miles in pedal-assisted mode, reaching 20.5mph. It also has front and rear disc breaks and has a 7-speed Shimano. In addition, comes with an integrated headlight and independent brake light and the front fork has suspension for the comfort of the riders.
ANCHEER 26″ Aluminum Electric Bike
If you want a street bike with old-school design attributes and pedaling assist features this one fits perfectly. It has a black aluminum frame (low step-through), dual disc brakes, a wide swept-back handlebar for an upright riding position, and a 6-speed gear derailleur. The motor has 250W and you can achieve 19mph for up to 35 miles in throttle mode and 45 miles in pedal assist mode. The bicycle weighs about 59 lbs/22 kg and has a 330 lbs/149 kg load capacity. Still has a one-year warranty!
Choose the one that best suits your needs and have a nice ride!