One of the best options to lose weight is spin bikes nowadays. With the current pandemic, indoor exercise bikes have become really popular. Even your personal trainer will suggest you an outdoor ride, or an indoor cycling bike for your cardio routine regardless of your fitness level. It is a good thing to add to your cardiovascular fitness routine as well. You will burn a lot of calories, and take a huge step to your fitness goal with a calorie deficit diet plan. It will be a good addition to your healthy habits at any fitness level. Adding a type of bike to your workout routine will give you many benefits. If you are looking for a way to burn extra calories, we have the perfect article for you. In this article, we will cover the benefits of biking and we will give you some optional bikes for weight loss if you want to have an indoor exercise bike.
Benefits Of Riding On A Stationary Bike
Firstly, we should mention some of the benefits of exercising on an indoor bike. It truly has many benefits for your health from all aspects. Let us dive into the topic, and show you some of the benefits of cycling workouts. You won't need a bike path or an outdoor bike, or a road bike to exercise.
1-Benefits on Heart Health
Your heart is a muscle that, like all muscles, needs regular exercise to keep your body in form, and healthy. At rest and during activity, a well-trained heart causes a decreased heart rate. As a result, a heart that has been properly trained beats less frequently and is less agitated. Because the heart is more muscular, it ejects a bigger amount of blood with each contraction, lowering blood pressure and ensuring blood circulation in our arteries. In the long term, if you exercise frequently, your cardio-respiratory capacity will increase. This will happen in most of the cardio machines.
You will be able to exert yourself without becoming breathless right away. These heart-healthy benefits of sports assist to lower the risk of cardiovascular disease. Also, people who exercise on a regular basis are less likely to suffer a stroke. If you exercise at least 2 to 3 times a week for 30 to 45 minutes per session, you will see these health advantages within only a few weeks. To persuade you, take your pulse at rest and see it improve over the course of 3-4 weeks. As a cardio workout, the cardio stationary bike is perfect for strengthening your heart and muscles.
2-Benefits on Muscle Strength
Stationary bikes target the major muscular groups in your hamstrings, legs, thigh, and back. Push and pull, the bike's two unique strokes, operate on various muscle areas in different ways. Pushing the pedals down strengthens the quads while lifting them up strengthens the hamstrings. You won't have to worry about injuries because there will be less tension on your knees and joints. The glutes, hamstrings, quadriceps, and calves are the muscles of the lower body that operate constantly on the exercise bike.
The abdominal and back muscles, your core muscles, help you to maintain your body's posture and therefore work. The upper body, biceps, and triceps, which allow you to grasp the handlebars, also function, but to a smaller amount than the muscles in the lower half of the body. When you tighten the handlebars, such as during an intensive exertion, these muscles work harder. The muscles of your arms and lower back work harder than the muscles of your thighs and buttocks when you stand up and ride out of the seat with high pedaling resistance.
3-Benefits on Joints
The extra strain and tension associated with jogging, sprinting, or running on a treadmill can be hard on the joints. When you work out on an exercise bike, you can increase your heart rate without incurring additional pressure on your joints and knees. When compared to walking, a bike puts less strain on your ankles, knees, hips, and back. Cycling can help you increase your joint range of motion. Knees, ankles, and hip joints all benefit from it. All of these joints spin while you pedal, increasing their range of motion and strengthening them.
4- Benefits on Weight
A stationary bike workout can burn more than 600 calories each hour, depending on the intensity of your activity and your body weight. As a result, indoor cycling is a fantastic calorie-burning training choice. The secret to losing weight is to burn more calories than you ingest. Working out at a high-intensity burns calories and builds strength, which can help you lose weight. Indoor cycling, when paired with a low-calorie diet, was found to be beneficial in decreasing body weight and body fat in a 2010 research. It also worked to reduce cholesterol and triglyceride levels. Three times each week, the participants cycled for 45 minutes and ate 1,200 calories. Energy loss with cycling is a lot beneficial compared to other sports.
Another advantage that makes a stationary bike an excellent choice for people looking to lose weight is the possibility to increase your intensity. The highest calorie burn rate is achieved by High-intensity interval training, or "HIIT." As a result, you'll want to incorporate this sort of exercise into your daily routine to get the most out of your weight-loss efforts. While sprinting can help you incorporate this sort of exercise into your regular routine, it will be considerably more challenging. Sprinting entails a lot of hard collisions, which may be dangerous for individuals who aren't in the finest form. It is, on the other hand, far easier and safer to increase your intensity. With this exercise, your weight loss goals are one step closer.
5-Benefits on Mental Health
Cycling may help you develop your brain in the same way that it can help you develop your body. When we bike, the blood flow to our muscles rises, allowing our body to create new capillaries and so give more blood and oxygen to our muscles. In fact, our brains go through the same process. Cycling helps our cardiovascular system to get deeper into our brains, delivering more oxygen and nutrients to help them operate better.
When we ride our bikes, our brains produce more proteins that are utilized to create new brain cells. Biking on a daily basis allows us to double (or even treble) the number of new cells in our brains! It also boosts neurotransmitter activity, which allows our brain's different areas to interact more efficiently, boosting our cognitive skills. According to a paper published in Current Psychiatry Reports in July 2018, practicing any type of regular exercise and physical activity, including indoor cycling, is related to lower stress and anxiety. Lastly, according to short research published just 15 minutes of riding a stationary bike can assist patients with severe depression lower cortisol levels.
Best Exercise Bikes – A Detailed Insights for You!
Now, since we learned the benefits of exercise bikes, we will discuss some of the best exercise bikes you can buy. We will help you find the best stationary exercise bike for weight loss. There are different types of exercise bikes, we will try to cover the best of them all. Let us dive into the topic and discuss which can be a good addition to your workout program.
1- Schwinn 270 Recumbent Bike
Starting with a bike that you have to ride in a recumbent position. The reclined position has many benefits. If you've been looking for a house bike, you've almost certainly come across the Schwinn 270 Recumbent Bike at some time. It has been shown to please customers in terms of how difficult it is, with 29 training programs and 25 levels of resistance, as well as its ability to provide a smooth, comfortable, and pleasurable ride. Anyone looking for an indoor exercise machine should look for a gadget that is flexible and beneficial for achieving various training objectives. It is never for the sake of appearances or to brag to our friends.
The Schwinn 270 has a lot of great features that will make anyone who wants to get out of a sedentary lifestyle pleased. It, for example, features up to four user accounts, which is the most on the market for exercise bikes. As a result, many family members or roommates can save their exercise data or settings for later use. It includes up to 29 preset routines, and all you have to do is pick the one that's right for you. The machine's preset programming makes it simple to operate. There are also up to 9 heart rate control exercises and 12 profile programs to choose from for energetic fitness enthusiasts. You may store up to four programs for later use, and you can even check out several alternatives to discover which one is best for you.
One of the most essential features of this recumbent exercise bike is the heart rate monitor to monitor your maximum heart rate. The choice aids in determining the intensity of the workout and staying within the appropriate range for our health. This machine has 25 different magnetic resistance levels, allowing you to effortlessly customize your training routine according to your endurance level. High inertia and a high-speed drive mechanism are additional elements of the recumbent bike. A flywheel with a weighted periphery is included. You may now easily start and end your workout in a seamless and trouble-free manner. Your training will also remain constant with such a setup, as there will be little variation between the changes.
Traditional workout equipment does not place a premium on elements like entertainment. Modern machines, on the other hand, come with a variety of entertainment choices to make the workout even more enjoyable. Of course, dancing to the beats of your favorite music makes you work out harder. The Schwinn 270 has one of the greatest acoustic systems for listening to your favorite mp3 songs. This exercise bike is enjoyable to use because of its comfort characteristics. The Schwinn 270 recumbent bike's best price is almost like a deal because of the many fitness alternatives and comfort features. You receive a lot of benefits from only one workout piece of equipment.
It includes a plush, adjustable seat height that makes working out a breeze. It is not uncommon to come across an exercise bike that is so unpleasant that it makes exercising a chore. You will also note that the backrest is permeable, allowing enough air to reach your back. The 3-speed fan is another important comfort element that you won't find on other workout bikes. When you are working out, nothing beats a breath of fresh air from a fan. It is truly an amazing addition. Since this bike does not make a lot of noise, get ready for a silent operation.
2-Exerpeutic ExerWorK 1000 Fully Adjustable Desk Folding Exercise Bike
One of the rising demands of consumers seeking to purchase home fitness equipment is the ability to work out while working. For this purpose, we'll discuss a particular semi-recumbent bike with a workstation that can help you fulfill both goals. And it comes from Exerpeutic, a reputable maker of low-cost workout equipment. The Exerpeutic ExerWork 1000 exercise bike is the name of this bike. Let us take a closer look at the bike's primary selling point: a large desktop that can be utilized for a variety of reasons.
The desktop is entirely movable, allowing you to move forward, backward, up, and down, making it comfortable to use whether sitting or standing. The desktop may be changed to three different angles: 0 degrees, 16 degrees, and 33 degrees. For added convenience, you may change the height of the padded seats from 41 to 45 inches. The ExerWork 1000's display is quite simple, tracking just important activity information such as overall speed, time, distance traveled, amount of calories burnt, odometer, scan, and the user's heart rate.
However, because the display is tiny and not illuminated, tracking the readings in low light will be challenging at times. In addition to the desktop, there are ergonomically built handlebars with Hand Pulse Sensors. These sensors send information about your current heart rate to the display, which you can see. With a silent operation, you can open the desk.
There is an easy-to-reach knob near the handlebars and directly beneath the front support beneath the desk that allows you to choose between 8 different degrees of resistance level. The knob is adjustable, and by rotating it, you may change the tension in the knob, and therefore raise or reduce total resistance in small increments. If you use this option, you will have to cycle harder to burn the weight if you increase the level of intensity.
It will lead to an intense workout. Similarly, lowering the intensity level will require you to use less force when cycling, resulting in an easier workout. However, because there are 8 degrees of resistance, your exercises will only be moderately challenging and not physically demanding for athletes. After all, this is a bike for those who want to work out while using their laptops and tablets, not for Olympic hopefuls. As a result, it's best to keep your expectations in check.
The V belt drive system and balanced flywheel on the ExerWork 1000 model, as well as a three-piece high torque crank mechanism, provide good and smooth pedaling. You may rest easy knowing that the bike will produce very little noise, eliminating the possibility of disturbing others in the house. It makes such a low amount of noise that you can comfortably watch TV or read while listening to it.
The Exerpeutic ExerWork 1000 has a large and comfortable 2.5″ thick AirSoft seat that is 11″ x 15″ long and broad. The seat has an aerodynamic design that effectively distributes weight and is pleasant to sit on for long periods of time. The seat's construction also guarantees that it stays cool even after several hours of use. The angled backrest, on the other hand, is 1.3" thick, albeit the thinner cushioning makes it less comfy. That is one minor fault in the bike's design that we discovered. However, just folding a towel or placing a pillow behind your back will greatly enhance your comfort. If you are looking for this type of exercise bike, this is a good choice.
3-Schwinn 170 Upright Bike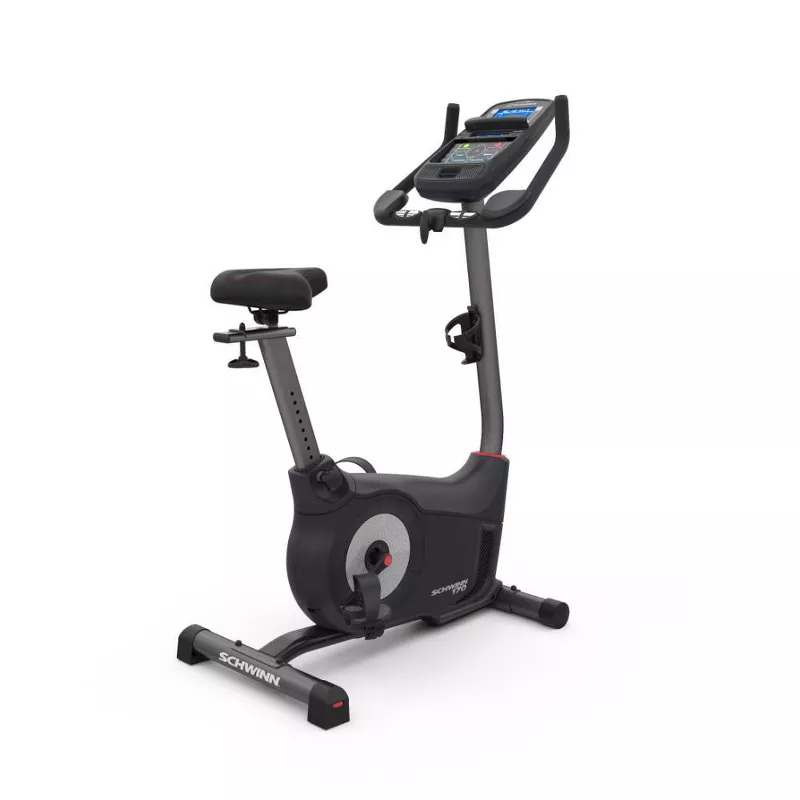 The Schwinn 170 Upright Bike comes with a plethora of features, many of which are geared at making the ride as pleasant and pleasurable as possible. The Schwinn 170 upright bike is a well-constructed bicycle. It is highly robust, and the materials used in its construction are of excellent quality, so it's no surprise that it's a very strong bike, capable of supporting up to 300 pounds of rider weight. The flywheel is easy to pedal on, and the resistance levels smoothly transition from one to the next. The quality of the flywheel of the Schwinn will be noticeable as you pedal.
The flywheel of the Schwinn 170 Upright Bike is exceptionally smooth and silent. When riding the bike, you won't have to worry about bothering anybody else. Furthermore, you will not have any trouble hearing while exercising because the bike is quite quiet. Get yourself ready for a silent operation. It has adjustable handlebars, an adjustable seat, and adjustable tension to be adaptive to every level exercise program. Since it is an upright exercise bike, you will feel like you are riding a road bike.
Wİth this bike type, It includes built-in speakers, for example, so you can listen to your own music while riding. Despite the fact that the speakers aren't the best, you won't have any trouble hearing them because the bike is quiet. A 3-speed fan is also incorporated into the console panel to provide a breeze to keep you cool while working out. A water bottle holder is included on the Schwinn 170 Upright Bike to keep you hydrated while riding. It is equipped with heart pulse sensors to add it to the console display as well. With the additional features, it is surely a bike to check out!
4-Exerpeutic Gold Foldable Exercise Bike
Now, we will discuss a foldable bike. This is one of the best spinning bikes that fold. With its foldable design, it will not take a lot of place in your home for sure. This bike is not only folding, but it also has a large user capacity. It's stable for 400 lbs (181 kg) of rider weight, which is far higher than any other folding bike. Steel tubing is used to construct the frame. The front base of the bike has caster wheels, which make it easier to carry. To improve the bike's stability, the rear base has a curved shape. Although the bases do not have leveling feet, they are completed with plastic covers that may be adjusted to increase stability.
The seat of this Exerpeutic bike is one of its most essential features. In fact, many of the most costly upright bike models don't come with this type of seat. This mini exercise bike has a basic, flat design, which eliminates any discomfort that a typical bike saddle could create. It has a comfortable seat. The soft handlebars are likewise basic in appearance, but it has numerous grips to support various training positions.
The bike's console can track your pulse because it includes built-in pulse sensors. Unfortunately, this bike's micro-adjustability is lacking. The handlebar is fixed, and the seat is only movable in two directions (up and down). This spin bike, like other basic upright bikes, has a manual magnetic resistance system with a movable magnetic brake pad connected to the resistance adjustment knob by a tension wire. The magnetic brake pad slides closer or further from the bike's flywheel as you crank the knob, adjusting resistance.
In comparison to other cycling fitness bikes, the propulsion system and braking mechanism are contained in a very tiny box. As a result, it's clear that the bike has a tiny flywheel. Even when set to the highest resistance level, the flywheel is balanced and does not come into contact with the brake pad, and the pedaling is smooth, without the stair-climbing effect.
This cycling fitness bike, like other magnetic exercise cycles, has a belt drive system with a heavy-duty V-belt that is resistant to stretching and almost maintenance-free. This is a feature that adds to the smoothness of the pedaling while also making the bike incredibly quiet to operate. The crankset and pedals are the final components of the bike's drive system on which we should concentrate. The crankset is made up of three pieces and has steel crank arms. It is sturdy, but bear in mind that this is an upright bike, not a spin cycle, for light to medium exercise routines. As a result, in a stand-up pedaling exercise, the crankset is not strong enough to support the user's entire weight.
In fact, cycling while standing up would be rather uncomfortable due to the bikes' folding construction. The weighted, self-adjusting pedals that come with this workout equipment also include straps. Because the pedals' threads are standard size, you can simply obtain replacements if this is the case. This bike for streaming workouts is really simple to put together.
It should not take more than 30 minutes, even if you don't have any mechanical abilities. The tools for assembly are included, as well as a user's handbook that will walk you through the procedure step by step. The drive system is already connected to the main bar of the frame, and the two sections of the frame are joined together. The front and rear stabilizers, pedals, seat, and lastly the handlebar with the console must all be connected, as well as the tension and pulse wires. With its compact design and comfortable position, it is a catch.