There are many types of bikes for many different purposes. The fixie bikes are trendy for several reasons, the principal is that they require very little maintenance due to their simplicity. For instance, these kinds of bicycles are highly popular in the Netherlands, where people often leave them on the street in adverse weather, yet they can last for years.
Their simplicity makes them more secure in certain environments, like tracking races. Here, these types of bikes are used mainly to prevent brutal crashes because anything that can drop something into the track isn't allowed. The freewheel-equipped bikes can drop oil because of their gears or the gear can fail to cause an accident. Plus there are no breaks in fixies, because the objective is to gain the maximum speed, and the breaks can fall.
But its minimalism has both pros and cons! Let's find out
What type of bike is best for long distances?
The quick answer will be the road bikes with gears shifting. Because in long-distance rides you will find challenging climbs, false flats, and headwinds that with gears would become much easier to overcome or you may also find wide descents that with gears you could go faster. However, this doesn't mean single-speed bikes can't fit in long-distance ridings. It's not the ideal bike, because of the only one mechanical advantage option, but with a good and a few training sessions, it became possible to do it.
You can see on Youtube a few videos of single-speed riders doing 100km or more on a single-speed bicycle, like this one: 120km Single Speed Bike Ride.
Why a fixie?
Some fixie cycling enthusiasts say that riding single-speed bicycles are pure cycling, and the science behind proves it. The transfer of power is more direct to the rear wheel due to the simplicity of the system. Others say that develops a natural pedal feel, that you only have to sit and spin your legs, and don't have to worry about changing gears, or anything else about the bike.
The simplicity and the reduction of the complexity of riding this type of bike is a serious thing. So much, that some consider it a cultural thing, they say that those who ride these bikes are less serious and are on the side of classical cycling.
The single-speed bikes are not only road bikes for long-distance cycling, they can be for urban riding and leisure rides with city bikes or commuter bikes. They can be too mountain bikes, like a BTM bicycle or a BTT bike.
What do you need to know to start riding long distances with a fixie?
The first thing you should worry about is your bicycle.
If you already have a fixie, before going on an adventure, you must have it checked, to make sure everything is in order, and you don't get stuck in the middle of your ride.
For this, there is a maintenance requirement like the condition of the chain, making sure it is correctly tensioned and lubricated, and proper pressure of the tires.
Make this process sometimes after your rides, to assure regular maintenance.
For long distances is advised to install brakes, even for advanced riders, because sometimes the weather conditions are not the best and when the road is wet the skip stops may not work, and honestly, you don't know what you might find on the way and need to brake quickly.
Here is the video of how to install a front brake on your bike: Front brake install | Fixed Gear.
If you aren't comfortable doing the changes on your own, you can simply go to a near bike shop and they can help you change it.
If you don't have a fixie, ensure that you buy a fixie for your purpose and riding style. For long distances on the road, you probably want something similar to a road bike, a lightweight bike with a carbon or aluminum frame, a comfortable saddle (remember that you gonna be the most of the time seated because you can't stop pedal), a drop handlebar, the pedals and the most important thing to choose, the gear that you gonna use.
What are the gear ratios?
The gear of a bike will give you the mechanical advantage to ride it. The gear ratio is the number that will tell you how challenging your ride will be.
It is important to understand that the higher the number more difficult will be, and the lower the ratio the easier it is.
For example, some bikes on the market come with a 46/16 ratio, which means 46 teeth chainrings in the front ring and 16 teeth in the rear ring. If we calculate this the result will be 2.87, in other words, the wheel will spin almost three times per rotation.
How to choose the optimal gear ratio for me?
If your tracks are balanced between ups and downhills and also have flat terrain, the neutral ratio to use will be 46/16, something around 2.8-2.9. However, if you have a track with a lot of hills probably you have to choose an easier ratio, like 40/18 or 42/21. Remember that the lower the ratio number, the easier it will be.
If you go on a type of terrain with a lot of downhills, something between a 3.5 – 4.5 ratio, will be a nice choice. With this ratio, you can maintain a proper cadence downhill, and maybe get the optimal cadence for a stronger ride on flat roads.
If you have a shifting mechanism and you have for example 52T in the big chain ring and 18-tooth rear sprocket, the ratio will be 52/18 (2.9), which is equivalent to 46/16 in a fixed-gear bike.
To choose wisely, it would be good to know previously what type of terrain you will ride.
Selecting the right gear ratio is crucial. This is what will allow you to have a comfortable ride and protect your knee joints from injury.
What is the best pedal choice?
There are many types of pedals, straps pedals, clipless pedals…
Platform pedals
The most simple and practical. You don't need to worry about what kind of shoe will fit or to adapt straps, it's just going up on the bike and starting to ride.
However, doesn't have a good power transfer, so there is a lot of waste of energy, and they can be a little bit slippy, especially when it's raining.
They are ideal for people that go everywhere with their bicycles and need an always-ready bike. It's good for short-mile rides and flat roads.
Strap pedals
Probably the most comfortable, efficient, and practical pedal that you may have. You can use these with every type of shoe, because of the adaptation of the strap, and the wide platform base, and still get that pedal efficiency.
Toe clip and straps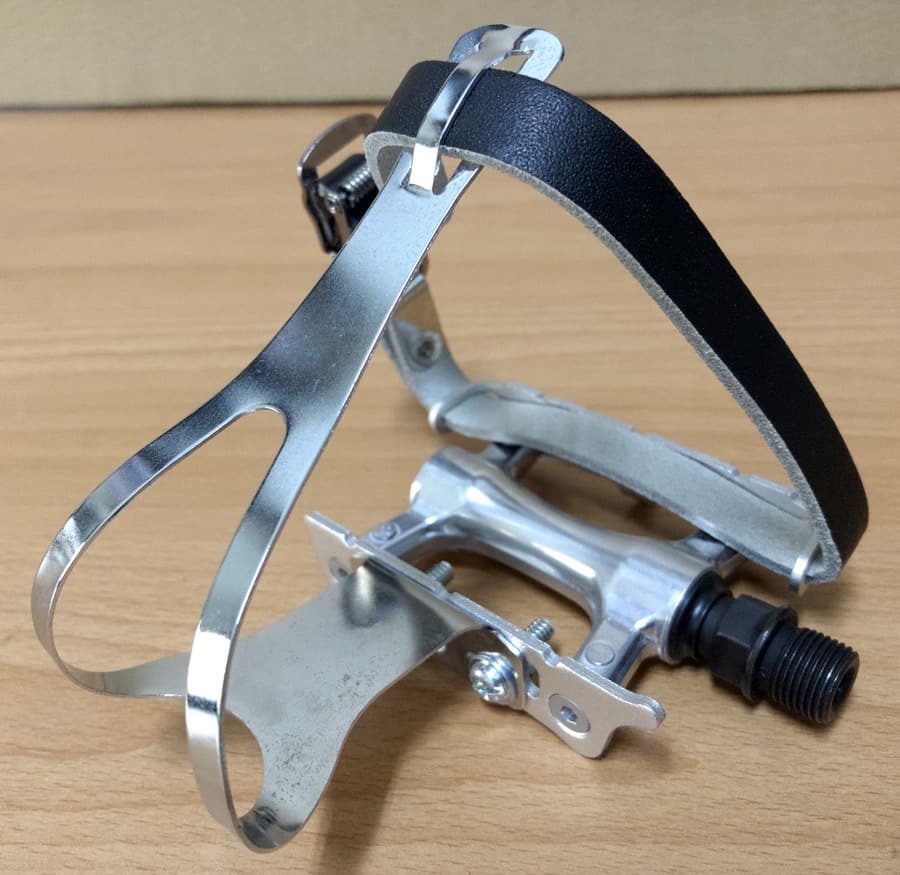 It's the most popular in the fixie community. You can wear sneakers and tennis shoes with these, however, boots won't feel comfortable because of a little size restriction in the toe box. Also, are not so durable and aren't too comfortable, because of the gap between the amateur and the foot. Although they are convenient and can give a good power transfer while riding uphills or for short sprints.
Clipless

Performance is the right word to describe them. The most efficient pedals to use. They have the right power transfer in uphills, sprints, and long courses. In addition, they can be very comfortable, but you have to assure to buy the right one.
There are two types of clipless pedals:
MTB Clipless pedal
Road Clipless pedal
The MTB pedals are more usual for mountain bikers, and for urban rides since they are really simple to clip and unclip.
The Road clipless pedals are for faster riders and for long long distances rides.
Comparing the two, MTB clipless pedals are easier to use, more pleasant to use on a daily basis, and have the advantage of being able to be used more formally and for performance.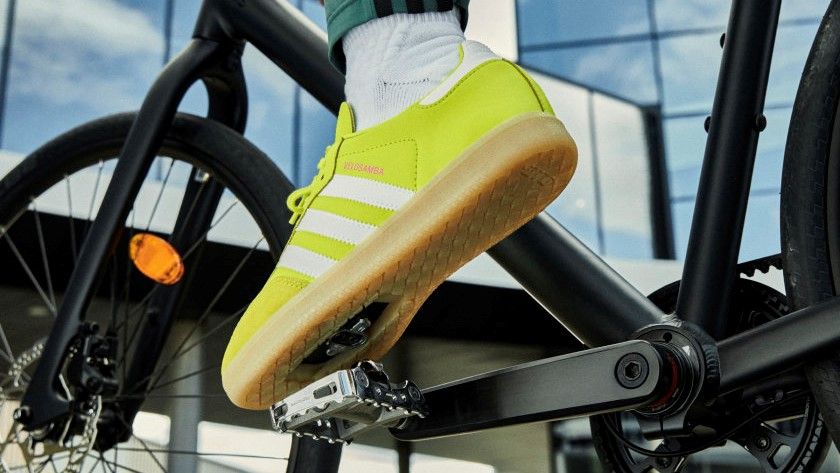 Considering that you can't walk with road clipless pedals and must change shoes each time you wish to ride your bicycle, they are not very practical. However, they are designed for pure performance rather than for utility, making them the fastest and most comfortable over long distances.
In sum, If you use your bicycle as means of transportation to go everywhere, through the most variety of terrain, and you need pedals that fit any shoe, get one pair of pedal straps.
If you are going to venture over long-distance cycling, and the purpose is to get performance, you'll benefit from the road clipless pedals.
Notes:
Both pedals require some ride experience, so if you are a beginner rider, make sure that you do some training rides, to practice and to become easier.
Choosing the right pedals will protect you from injuries and prevent knee pain.
What is the best fixie bike for long distances?
This one will be a good and cheap track bike choice for a road fixie bike. Plus it comes with a flip-flop hub, meaning that, it can be a fixed-gear bike and a freewheel bike!
FIXIE INC. FLOATER RACE BLANCO 2022
What is and how it works the flip-flop hub system?
When you put the freewheel side, you can stop pedaling and the wheel stays spinning. However, when you put the fixed cog, you can't spot pedaling. The wheel and the pedal are only one thing, so if you are going in downhill your legs will spin together with the wheel.
Here you can see how to change a freewheel-equipped bike to a fixed gear: Solé Bicycles // How to change your bicycle from Freewheel to Fixed Gear
What are the pros and cons of riding a fixie bike?
Pros
Are very durable
Are cheaper
Low maintenance requirements
Have low costs maintenance
Have an easy mechanism
Are usually lighter bikes
The minimal design gives them a good look
Cons
Not optimal for long-distance cyclists, but in the end is a personal preference
If you don't choose the right material may not be a comfortable bike
Not as efficient as a derailleur bike. The average speed can be much lower, and it will be difficult to maintain an optimal cadence, especially on downhills.
It's more possible to get injuries, particularly in knee joints
Are less versatile. It does not fit well in any variety of terrain. You will only go with one gear, and that gear will have to suit you for the whole ride. Clearly, it would be more comfortable to use a wider gear range, but here is where the challenge lies
Since it is harder to ride, you gonna need a lot of training rides. So it will be good to have a training plan. This will make your sessions more organized, and more consistent.
Now that you know everything about the fixies, will you join the fixie culture?
Make your choice according to your needs and whatever suits you best!
Have a nice ride!