The primordials of dirt jump bikes are the BMX (Bicycle Motocross) bikes. The BMX riders, in the 1990s, began to focus on performing tricks on dirt jumps and pump tracks rather than racing. To this change, the BMX bikes were modified, with shorter chainstays, slacker head angles, and more suspension travel to better handle the demands of jumps and tricks. At the same time, mountain bike manufacturers began to produce bikes specifically designed for dirt jumping, with lightweight frame materials, and more aggressive geometry.
A dirt jump bike mixes the MTB and the BMX bike!
In the 2000s the dirt jumping sport gained significant popularity with extreme sports competitions and the X games, making companies optimize all the components, refine the geometry and use more robust and lighter materials. Typically these bikes are single-speed, so they need very low maintenance, and the frame materials that are used are alloy, Chromoly, and aluminum.
A Dirt Jump Mountain Bike is then a bike that is designed for jumping and performing tricks on dirt jumps, pump tracks, and other off-road features. These bikes have a compacted and agile design, with a shorter wheelbase and lower standover height, to allow better maneuverability and increase the performance of complex and risky tricks.
In this article, you will find everything you need to buy a dirt jump bike: the best and cheapest options!
Best beginner dirt jump bikes
The Haro Steel Reserve 1.2 is popular for beginners looking for a high-quality dirt jump bike capable of handling a wide range of riding styles and terrain.
Bike Specs:
Chromoly Steel Reserve frame, with an internal head tube 22.5″ TT – Means that this bicycle can handle the demands of your rides and produce a stable ride, however, it's a little bit heavy
Manitou Circus Sport 100mm travel fork – Ideally for riders that like to have firmer rides and that prefer to hit smaller jumps with more speed and maneuverability
Tektro Auriga HD-M275 hydraulic rear disc brake – These hydraulic disc brakes provide a trustable and safer stopping power and improve control when riding at high speeds or performing tricks
Haro Chromoly 8 Spline 3-pc crankset, 28t sprocket – It has a modern design of crankset, and the sprocket of 28 teeth is a good choice for a fast acceleration
It has several options for frame sizes: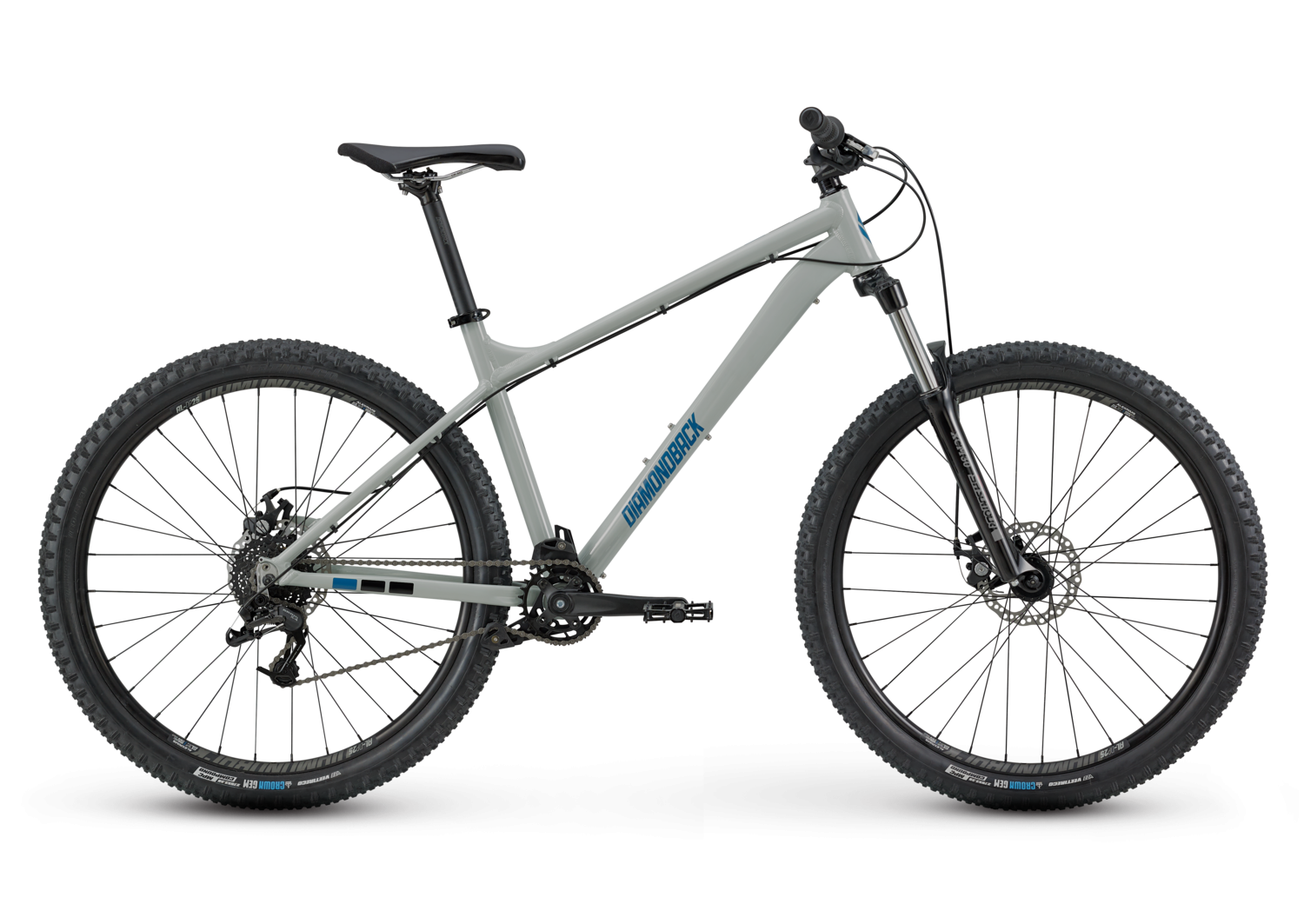 The Diamondback Hook is an excellent choice for first-time riders looking for a high-quality bike that can handle the demands of dirt jumping without breaking the bank.
It is a complete bike, has good quality components, is one of the most versatile bike on the market, and comes with an excellent price! It can handle very well through almost any terrain, smooth trails, or technical singletrack.
Bike Specs:
6061-T6 Butted Alloy Frame – This frame material offers a good balance between strength, weight, and durability, making this bike easy to maneuver for technical tricks
SR Suntour XCM 120mm Travel Fork, 30mm Stanchions, Coil Spring w/ Preload Adjust – This suspension fork is frequently used in beginner mountain bikes. Can compress 120mm when hitting a bump or landing a jump, meaning that it can absorb very well landings for a smoother riding
SRAM PG820, 8 Speed, 11-32T – Good for flat terrains, downhills, or for climbing hills
Geometry: The long wheelbase and the slack head tube angle helps to have a stable ride and a good prediction of the direction on descents; The steep seat tube angle and the short chainstays provide efficient pedaling and greater control of the bike; The relatively low bottom bracket height offers a low center of gravity, which can improve the stability in corners and bumpy terrains
Best intermediate dirt jump bikes
This bike has all the characteristics that an intermediate look's: durability, lightweight, reliable suspension, good breaks, and a low price.
Bike Specs:
6061-grade aluminum frame  – Due to the aluminum frame this bike can be very durable, and lightweight
RST Dirt-T fork – It has 100mm of travel for a smooth and firmer ride
Promax Mech Disc, 160/160mm Rotors – This mechanical disc brake system allows you to have a good power stop, especially in wet or muddy conditions, and provide consistent performance over time. However, remember that they don't have the same performance as hydraulic brakes. This cheaper brakes component selection may have been due to maintaining a lower price range
GT Power Series Cr-Mo 3pc., 170mm Arms, 19mm x 8T Cr-Mo Spindle, GT 25T Steel Chainwheel – The longer arm length, 170mm, it's good for taller riders and can give a better power transfer. The 25 teeth chainring allows you to have a good balance between speed and acceleration
Kenda 3-Sixty 2.35″ tires – Provide good grip on hard surfaces and still can allow a reasonable speed. These types of tires are designed to overcome dirt jumping, pump tracks, and freestyling riding, making them a solid choice for riders that are looking for a high-performance.
Best advanced dirt jump bikes

It is a good bike for experienced dirt jump riders. It is a good choice for dirt jumpers who can handle technical jumps and tricks, and high-speed pump track sessions.
Bike Specs:
Canyon Stitched Aluminum Frame, Tapered HeadTube – This aluminum frameset with the tapered headtube improves handling and stiffness. The internal cable routing is for a neat appearance and to protect the cables from dirt and debris and is designed with a low standover height for simple maneuverability. The disadvantage of the tapered headtube and the internal cable routing is that maintenance is more difficult to make and can be time-consuming
Manitou Circus Sport, 100mm travel – It's a fork that adapts several riding styles because it provides a nice combination of stiffness and weight. The 100mm permits to have comfortable landing jumps and going over rough terrain. However, it might not be as good at absorbing stronger impacts and might bottom out more quickly. If you are a rider that prefers a stiffer fork and has a more aggressive riding style this one might not be for you, but the Manitou Circus Expert can be a good choice (130mm of travel which is better for more technical riding with bigger drops and jumps)
SRAM Level T, hydraulic disc brakes with 160mm rotors – They aren't high-end hydraulic brakes but still can do the job and provide good performance for most dirt jumping needs. They deliver reliable stopping power, allowing you to have precise braking control. If you want to have high-end brakes in your bike the Hope Tech 3 is a good upgrade.
Alexrims FR30 | Stitched Hub – The wide rim profile (30mm) offers good stability and support for tires and this works perfectly with the Maxxis DTH 2.3″ tires that provide a good grip. In short, the FR30 is a 26-inch wheel that is durable and suitable for aggressive riding style. They might not be suitable for riders that prefer narrow rims and prefer lightweight components.
These are our picks of low-cost bicycles for various skill levels! Make sure you choose the best bike for your needs and preferences. Good tricks!